YOUR IDEAS INTO REALITY
We create high-end architectural illustrations, both 2D & 3D for the architect, designer & developer.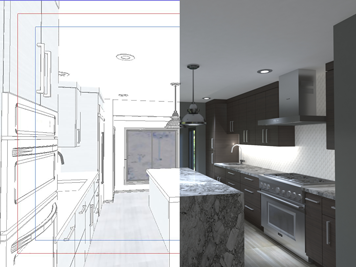 Endisine3d, Inc. was founded in 2001 with the express purpose of delivering high-end two-dimensional and three-dimensional graphics to architects, designers, and developers alike.
Through the use of innovative software, we can accurately create your interior space or exterior building project digitally.
With years of experience in the interior design field as well as architecture, we understand what it takes to bring your ideas to life accurately, with unparalleled realism.
Endisine3d uses cutting-edge software, taking cad drawings, sketches or an idea and turning it into a tangible marketing tool that will help you sell even the most complicated designs. Professional end user relationships depend on visual tools to communicate back and forth. We pride ourselves on presenting the most accurate images in a more manageable way so that you can show your client exactly where the project is headed. And with experience in the field, we understand your challenges and ideas.
Endisine3d, Inc. has spent many years perfecting the art of digital renderings. See some of our work below.
Lake Tahoe Spa Guest Bath
admin
2019-02-21T21:41:59+00:00
Lake Tahoe Guest Bath
admin
2019-02-21T21:44:48+00:00
Lake Tahoe Modern Kitchen
admin
2019-02-21T22:01:36+00:00
Bay Area Master Bath
admin
2019-02-22T00:10:32+00:00
Northern Arizona University
admin
2019-02-21T22:13:42+00:00